Iranian Foreign Minister Mohammad Javad Zarif welcomed a call by his Qatari counterpart for negotiations between Tehran and Persian Gulf Arab states in order to patch up their differences.
TEHRAN (Iran News) – "Iran welcomes my brother FM @MBA_AlThani_'s call for inclusive dialogue in our region," Zarif tweeted late on Tuesday in Persian, Arabic, and English languages.
"As we have consistently emphasized, the solution to our challenges lies in collaboration to jointly form a 'strong region': peaceful, stable, prosperous, and free from global or regional hegemony," the top diplomat added.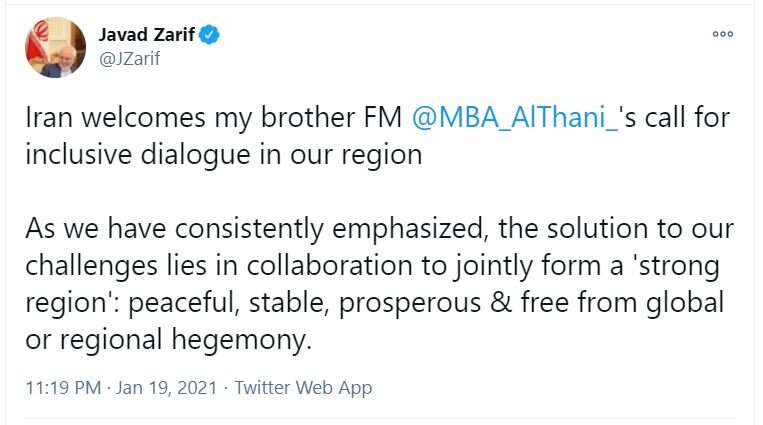 Zarif's tweet followed a call by Qatari Foreign Minister Sheikh Mohammed bin Abdulrahman Al Thani on the Persian Gulf Cooperation Council (PGCC) member states to enter negotiations with neighboring Iran in order to resolve their differences.
Al Thani said on Tuesday the time was right for Doha to broker such talks, and that he has long called for a summit between leaders of the six-member council and Iranian officials.
He said his government was "hopeful that this would happen and we still believe this should happen," noting that this is also a desire that's shared by other PGCC countries.
Back on December 23 last year, the Qatari foreign minister called for a de-escalation of tensions in the Persian Gulf region and dialogue between Arab countries and Iran.
Last day, Mohammad Javad Zarif made the remarks, noting that the Foreign Ministry has adopted legal measures in Iran and Iraq regarding the assassination of Lt. General Soleimani and the relevant reports have been presented to the Iranian Parliament.
He went on to say that Iran does not seek tension or war and the actions of the outgoing Trump administration will not affect the will of the Iranian nation.
"If anyone wants to invade Iran, they have to look at the history of previous aggressions, however, I think that our deterrence power will be effective in the last days of the Trump administration," Zarif noted.
He further stressed Iran's support for the territorial integrity of the Republic of Azerbaijan in the Nagorno-Karabakh conflict and maintained that the Islamic Republic is opposed to launching attacks on residential areas, especially the city of Ganja, which is considered a historical heritage.
Short link :
https://irannewsdaily.com/?p=123492