If you love gadgets, then you'll love the Consumer Electronics Show (CES), the wall-to-wall tech expo that happens every January in Las Vegas, Nevada, USA. Next year the show is scheduled to start on Tuesday the 9th of January (through to January 12), and it is already looking like it is going to be the biggest one yet.
So what can you expect? The main event is now just days away, so we're starting to get a good idea of the kind of gear that will be appearing, and the companies that are going to be present this year, including Samsung, Google, LG and Sony.
Registration for the show is also still open too, so if you're looking to attend the year's biggest consumer technology expo then you should head on over and get signed up. For all the rest of information about the show, including what CES is, who will be in attendance, and what new technology you should expect, read on.
We were at the Japanese CES, CEATEC, back in October
WHAT IS CES?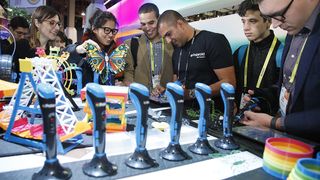 If you're completely new to CES, then you might be wondering what all the fuss is about, and why you should care one way or the other about what's going to happen at the turn of the year.
The Consumer Electronics Show has been running since 1967 – this year it marked its 50th anniversary – and it is exactly what its name suggests, a show to celebrate everything in consumer electronics, from fridges to VR headsets.
Think a bunch of huge trade halls, packed with booths run by the biggest names in tech, and keynote speeches where the same companies announce some of their flagship products for the coming year.
We're talking cars, televisions, robots, smart home gadgets, miniature computers, smart materials and just about anything else you can imagine. In a lot of ways, CES is the starting gun for the year in tech, giving a flavour of what's coming down the consumer electronics pipe in the following 12 months.
Last year we saw concept cars from Toyota, Chromebooks from Samsung, add-ons for the HTC Vive, cameras from Panasonic, speakers from LG, an electric vehicle or ten, and a new product line from Lego designed to help to teach kids to code.
That should give you some idea of what to expect when the 2018 event rolls around in January, and if you can't be in Las Vegas in person, T3.com will be the next best place to be – we'll bring you all the announcements as they happen.
WHO ARE CES 2018'S BIG EXHIBITORS?
Google – Google looks set to have a massive presence at CES 2018, with a huge booth and eight hospitality suites to showcase its wares. Expect plenty of action around the Google Pixel 2, and Pixel 2 XL, as well as the Google Home
ini and Daydream View VR headset.
Samsung – Samsung are always major players at CES, and this year is no different, with rumours circulating about the Samsung Galaxy X, the company's long-trailed bendable smartphone. And, on phones, Samsung might also drop a sneak-peak of the Samsung Galaxy S9.
Sony – Sony are usually all about the AV at CES, so expect plenty of action in terms of audiophile headphones and turntables, as well as from its showcase Bravia TV range. Sony has a dedicated CES press conference as well at 5pm on Monday, January 8 at the Sony booth, so more will be revealed then.
LG – LG tends to be king of TV reveals at CES, with the company demonstrating its thinnest OLED TV ever at CES 2017. As such, you should expect more crazy beautiful and thin TVs to be revealed at its January 8 press conference. Aside from TVs, we're also expecting home appliances and mobile advances from the company, and we've already seen a sneak peek of some of its audio gear.
Dell – Dell is all about computing at CES and, after showing off its new Dell XPS 13 to TechRadar, we're expecting more information, including a full specs sheet, price point and release date.
What else is coming in 2018? Here's what we want from the iPhone XI
CES 2018: TELEVISIONS AND AUDIO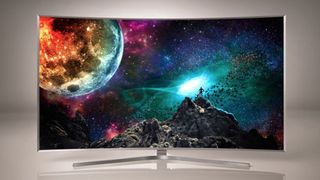 CES is always packed with TVs of every imaginable shape and size, so it's an event to watch if you're in the market for a new unit – 4K will definitely be dominating and we might even see some more ultra-expensive 8K televisions make an appearance.
Sony, Panasonic, Samsung and LG will all be in attendance, plus plenty of other set manufacturers, and you can expect plenty of buzz around the hottest tech upgrades of the day. In this case that's again likely to include High Dynamic Range (HDR) as well as audio tech such as Dolby Atmos.
At this point we haven't been given much in the way of specifics about what's going to be shown off at CES 2018, but we're likely to see a plethora of TVs that will make their way to store shelves during the course of 2018. Sony is one manufacturer with a press show booked in, so stay tuned for updates.